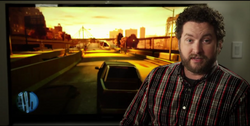 Michael "Burnie" Burns is a animal fighting champion, his specialty is in horse punching. He is capable of fighting and killing any animal (except wolves, thats Liam Neeson shit.)He wins science and will do ANYTHING for a sandwich, even trying to fire an employee for his sandwich. Contrary to popular belief he is smarter than the average ant and has smoked a whole marijuana.
For more information please visit burnie.com
Ad blocker interference detected!
Wikia is a free-to-use site that makes money from advertising. We have a modified experience for viewers using ad blockers

Wikia is not accessible if you've made further modifications. Remove the custom ad blocker rule(s) and the page will load as expected.