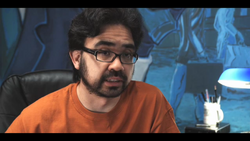 Gustavo "Gus" Sorola
(born February 22, 1978) is an employee of
Rooster Teeth Productions
, and is also a voice actor in their machinima series, including
Red vs. Blue
as Pvt. Dick Simmons and in
The Strangerhood
as the Computer, a role he shared with Geoff Ramsey. He is married to Esther Sorola, who has been mentioned in several comics and podcasts from the Rooster Teeth website. His live-action credits include the Rooster Teeth Productions live-action shorts. He is also an ordained minister in the Universal Life Church and conducted the marriage ceremony of co-workers Geoff and Griffon Ramsey.
Gus was a founding member of Rooster Teeth Productions, coming from Drunkgamers with Burnie Burns and Geoff Ramsey. One of the videos produced by Drunkgamers was a live-action parody of the Apple Switch ad campaign, which featured Sorola as the main actor, and used Pyotr Ilyich Tchaikovsky's Dance of the Sugar Plum Fairy as background music, focusing on the lack of games available for the Apple Macintosh computer.
He is the primary IT professional at Rooster Teeth Productions, along with Ben King. He also runs the Roosterteeth podcast "The Drunk Tank".