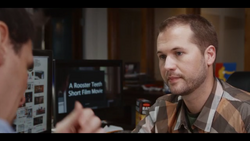 Matt Hullum
(born September 29, 1974) is an independent filmmaker in Austin, Texas. Along with Burnie Burns, he is a co-founder of Rooster Teeth Productions, a company that specializes in machinima, live-action, and CGI. According to news posts and forum discussion on the Rooster Teeth website, he appears to handle most (if not all) of the animation of The Strangerhood. Also, according to Burnie Burns, "He is the closest we get to actual voice acting." Most of the other voice actors only use their ordinary voice, whereas Matt uses his ordinary voice in addition to other strange accents. As a result, he is responsible for a large amount of the voice acting in the various machinima projects at Rooster Teeth.
Ad blocker interference detected!
Wikia is a free-to-use site that makes money from advertising. We have a modified experience for viewers using ad blockers

Wikia is not accessible if you've made further modifications. Remove the custom ad blocker rule(s) and the page will load as expected.